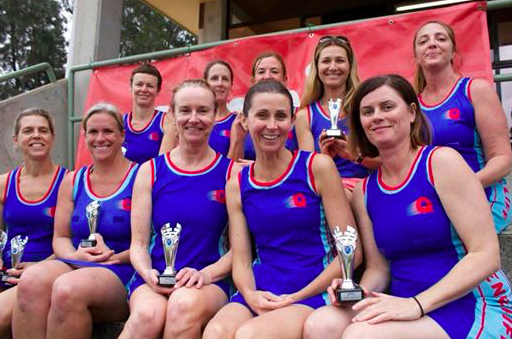 Queenscliff Netball Club 2019 – Senior Teams
Thanks again to all of our Seniors / Opens playing for Queenscliff Netball Club in 2019. We appreciate everyone coming back each year and hope you had a fantastic Season.
Gill Anderson will be in contact in the near future to let you know what's needed regarding Umpiring this year as the structure has changed. In theory it should be easier for everyone.
If you notice something incorrect with the Team Lists below please contact Cathie Mascord our Seniors Registrar asap.
Cathie Mascord – cathiemascord@hotmail.com
| | |
| --- | --- |
| Carlton, Lisa | Queenscliff 1 |
| Frizzell, Courtney | Queenscliff 1 |
| Guberina, Sharne | Queenscliff 1 |
| Hensby, Kelsey | Queenscliff 1 |
| Holland, Rachel | Queenscliff 1 |
| Littlejohn, Catherine | Queenscliff 1 |
| McAuley, Claire | Queenscliff 1 |
| Naylor, Zoe | Queenscliff 1 |
| Romyn, Alexandra | Queenscliff 1 |
| | |
| Beatty, Alana | Queenscliff 2 |
| Carruthers, Rosemary | Queenscliff 2 |
| Costello, Rebecca | Queenscliff 2 |
| Foote, Michelle | Queenscliff 2 |
| Hunter, Jillian | Queenscliff 2 |
| Latta, Amber | Queenscliff 2 |
| Saiani, Reegan | Queenscliff 2 |
| Smith, Marian | Queenscliff 2 |
| Syme, Meaghan | Queenscliff 2 |
| Wright, Monique | Queenscliff 2 |
| | |
| Batchelor, Louise | Queenscliff 3 |
| Currie, Angela | Queenscliff 3 |
| Dyer, Samantha | Queenscliff 3 |
| Elvy, Yvette | Queenscliff 3 |
| Forrest, Lisa | Queenscliff 3 |
| Jolley, Elizabeth | Queenscliff 3 |
| Nickson, Elyse | Queenscliff 3 |
| Preston, Stacey | Queenscliff 3 |
| Sandy, Clare | Queenscliff 3 |
| Slovinec, Joann | Queenscliff 3 |
| Taylor, Shelly | Queenscliff 3 |
| Wilson, Jessica | Queenscliff 3 |
| | |
| Barton, Elaine | Queenscliff 4 |
| Dobell, Mia | Queenscliff 4 |
| Doyle, Willow | Queenscliff 4 |
| Hansen, Rachel | Queenscliff 4 |
| Kiely, Bec | Queenscliff 4 |
| Lumsdaine, Zarah | Queenscliff 4 |
| Malm, Andrea | Queenscliff 4 |
| Sargent, Zara | Queenscliff 4 |
| Smith, Caitlin | Queenscliff 4 |
| Wickham, Gemma | Queenscliff 4 |
| | |
| Blackwood, Kylie | Queenscliff 5 |
| Elworthy, Belinda | Queenscliff 5 |
| Gemmell, Nicole | Queenscliff 5 |
| Glazewski, Nicolette | Queenscliff 5 |
| Grace, Linda-Jane | Queenscliff 5 |
| Hartley, Cherie | Queenscliff 5 |
| Hogan, MIchelle | Queenscliff 5 |
| Mitchell, Gabrielle | Queenscliff 5 |
| Moon, Linda | Queenscliff 5 |
| Smith, Georgia | Queenscliff 5 |
| Vaughan, Lisa | Queenscliff 5 |
| | |
| Andrews, Lauren | Queenscliff 6 |
| Barrett, Samantha | Queenscliff 6 |
| Bourcier, Rebecca | Queenscliff 6 |
| Farquhar, Lauren | Queenscliff 6 |
| Gavel, Isabeau | Queenscliff 6 |
| Grieves, Anna | Queenscliff 6 |
| Lau, Carina | Queenscliff 6 |
| McNab, Ashlee | Queenscliff 6 |
| Scherer, Jennifer | Queenscliff 6 |
| Warner, Violet | Queenscliff 6 |
| | |
| Alsop, Krystal | Queenscliff 7 |
| Apps, Jennifer | Queenscliff 7 |
| Barnett, Ally | Queenscliff 7 |
| Belford, Joanne | Queenscliff 7 |
| Cavallaro, Natalie | Queenscliff 7 |
| Haigh, Simone | Queenscliff 7 |
| HONE, CHERYL | Queenscliff 7 |
| Kneller, Kylie | Queenscliff 7 |
| Richards, Claire | Queenscliff 7 |
| Smith, Corrine | Queenscliff 7 |